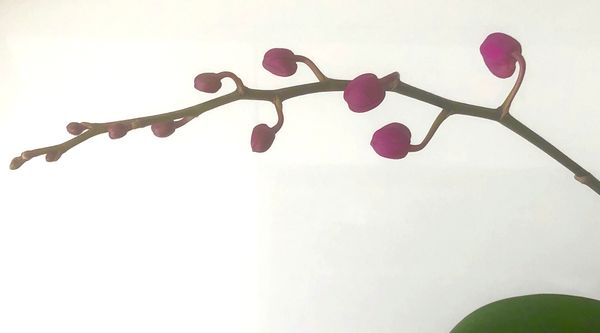 This photograph was taken last spring. On May 1st - my birth month. The orchid was given to me by friends on my father's passing on April 12, 2015. In my Eulogy to him, I mention his departure marked the "end of an era." He was a myth and legend all at once. Men like him hardly exist.
Years passed. I traveled, performed a little, got married to a lovely French-Sicilian whom my mama adored. Then, last January I lost the love of my life - my mama Fayrouz. The most pure soul you would ever meet. Since then, my heart wanders aimlessly. And my voice along with it. Voy rumbo de soledad...
So why the photo of the orchid, you ask? And why now?
My mama loved plants. She never attended school a day in her life, yet her relationship with plants was sacred.
Any flower, plant or tree was her form of meditation with life. She would sing to them and in return for her loving purity, her plants and fruit trees would shine and grow healthy. We would all marvel at how beautiful her orchids and plants gleamed. With her sweet smile and voice she would say, "just water!" 
When spring came around last year, my plants shared surprises with me straight out of a magical realism story. This orchid had not shown a sign of life for years. Then, its buds blossomed...and blossomed...and blossomed!
A succulent plant I'd had for years, grew a tall sprig -- and by tall I mean 3 feet tall -- with tiny white flowers on top. 
I almost forgot! There was her hydrangea -- which she loved. It started flowering some weeds beside -- they were beautiful yellow-flowered topped weeds.
I don't know about you, but I Iive for these tiny moments of magic.  They are so full of wonder.
I know it was my mama showing me beauty. Despite the pain, she was revealing her presence -- just in a different form. 
To remind me that life is a cycle -- of death and rebirth, death and rebirth. 
As we are experiencing this historic new cycle of rebirth and death, I wish for you to choose one thing that brings you joy.
Wishing you well, wherever you may be. 
Thank you for your reading and supporting my music all these years. 
I will be sharing more, soon. And I promise, I will share more in more languages -- tengo corazon latino y arabe!
Love,
Elizabeth xox